Rare Books and Special Editions
At Colorado College, we collect rare books and special editions to support the college's curriculum, including its thematic minor in book studies (offered since the 2009-2010 school year). We have about forty examples of incunabula and early printed books, a single 15th century codex, and a large teaching collection of leaves from early manuscript and printed books.
We also have extensive collections on the history of Colorado and the American West, a small but growing collection of artists' books, and a complete collection of the books made at The Press at Colorado College.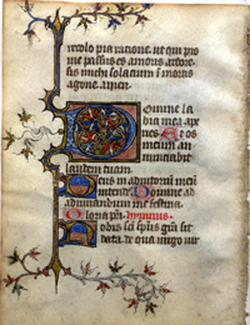 14th century Book of Hours in Latin.