Rare Books and Special Editions
The Rare Book Collection consists of about 2000 volumes. It includes about two dozen examples of incunabula and early printed books and a good selection of early Americana and Western Americana. It also includes the Alfred R. Justice Chess Collection and the Charles Dickens Collection.
The Special Editions Collection consists of about 4000 volumes on a wide variety of subjects, including American history, world history, the history of printing, and book arts. This collection contains examples of significant first editions, limited editions, fine printing, fine binding, artists' books, and facsimiles of illuminated manuscripts.
Special Collections also has a 15th century codex, about 100 original, individual leaves from manuscript and printed books, and the Donald Jackson Collection of Original Leaves, a collection of 60 leaves illustrating the development of the book from 1150 to 1804.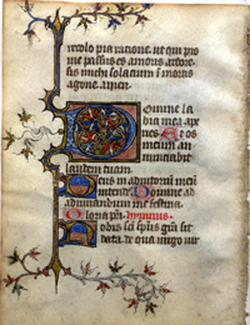 14th century Book of Hours in Latin.