Alfred R. Justice
Chess Collection
The Alfred R. Justice Chess Collection in Special Collections consists of over 300 bound volumes on the history of chess from the 16th to the 20th centuries. For a complete list of titles, do a keyword search on "Alfred Justice Chess Collection" in the Tutt Library Online Catalog.

The collector, Alfred R. Justice, was a member of the Mercantile Chess Club in Philadelphia in the 1890s. His son, Philip S. Justice of Denver, gave the collection to Colorado College in 1957.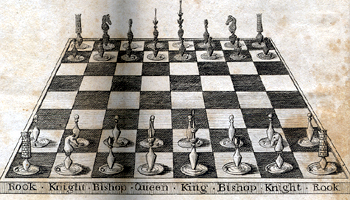 The Elements of Chess, Boston, 1805.